BUY-3-GET-1-FREE
Looking to outfit your whole family with their own Action Sports Anchor?
Got multiple devices and could use a few in your active lifestyle?
Great news! Click on this coupon code to activate the discount, or apply the code BUY3GET1FREE at checkout. 
Next, add 4 kits in your desired colors to your cart and your 4th Action Sports Anchor Kit will be FREE at checkout!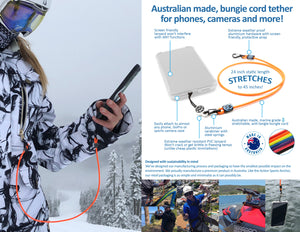 Here's what people are saying...
"I have been using one for over a year now. As a ski instructor, I use my phone a lot to take photos for guests on ski lifts. Phones are expensive and Action Sports Anchor's simple tether system give me the confidence to know that if I fumble and drop my phone that it's not lost in the snow or smashed onto the rocks below.

Personal electronics are expensive, whether its your new I-Phone 14, you latest Go-Pro, or the radio you give your children to help keep in touch with them on the slopes. The Action Sports Anchor can save all of these items from being lost – on the slopes or in the water or outdoors generally.

This simple and inexpensive Australian made product is fantastic.

It works 100% as advertised and can save you big bucks from a lost or destroyed phone. It attaches to most Phone Cases and attaches to a Zipper easily. It has even been used at big music festivals to protect phones against being dropped and lost in a Mosh Pit!

Go out and get this simple but effective device that works and can save you a lot of heartache."

Trent Abberfield, SnowAction Magazine Contributor & Ski Instructor, Australia - February 20th, 2023
"After using the Action Sports Anchor I now hate to ski without it! If I forget to grab it or wear the wrong jacket I'm more freaked out to use my phone on the chairlift than ever! So much so that I've made sure I have one on all my jackets!"

John Smart - Whistler, Canada Camp Director - Momentum Ski Camps. Plus, 2 Time Olympian, 13 Time Mogul World Cup Medalist, Member of Canada's Sports Hall of Fame
YES, YES, YES! The Action Sports Anchor is my 'go to gadget' when I'm out on the mountain skiing. I don't have to worry about dropping or losing my phone (or GoPro!) off of a chairlift or t bar- it provides such great peace of mind! An absolute 10/10!!!

Kala V., Jindabyne, NSW, Australia
So simple, yet so effective... I use mine while out on bike rides and I no longer fear my phone falling out of my pocket. It's been great at work, no more "Oops" moments taking my phone out of my pocket. I wish I had this years ago! It would have saved me some worrying while on my motorcycle and would have saved me ton of money with two teenagers constantly dropping their phones too.

Brian P., Palmdale, California, USA
I have been in the tree industry for over 18 years performing all types of tree work from aerial inspections to full tree removals.Often I take my phone into the trees to get photos of hollows or habitat and to assess safety and structure. On occasion my phone has slipped from my pocket or my hand when in difficult positions.The Action Sports Anchor has proven to be effective in preventing this from happening, it is easy to use and the elastic shock cord assists getting the phone from my pocket in more difficult areas. I can be working from 1m-50m off the ground so the Action Sports Anchor is now a key piece of equipment for me and the longevity of my devices. I highly recommend the Anchor for all works at height.

Jamie L., Berry, NSW, Australia

Our Story
Hi! We're the Schereck's!
If you're visiting this site you are probably a lot like us. We are an active Australian family. We love spending time together outdoors. We love motorcycling, hiking, cycling, boating, skiing and riding horses. We love to capture photos and videos on our phones and sports cameras while we are out and being self employed means that we always have to stay connected to our business and clients, often with our mobile phones…
A few years back I was on a chair lift with my daughter - I had to send an email to a client so I had a death grip on my phone because I didn't want to drop it. That's when the idea hit. Why isn't my expensive phone connected to my body? That night I looked around online for an anchoring system but I couldn't find anything I liked.
I love sport and quality equipment but I couldn't find anything that matched the build quality of the rest of my gear. I didn't want anything predominately made of plastic because I worried the small parts could become brittle in the freezing cold. And I didn't want to have to buy special phone cases for the entire family just to use while doing our sports.
So we spent the next couple of years experimenting - we built anchor after anchor, testing each unit in freezing cold or scorching heat until we came up with an incredibly simple, strong and effective system with a universal design that works with almost any phone case or sports camera.
The end result is our Action Sports Anchor. We hope you enjoy the peace of mind it brings as much as we do!